Want to become a 3D Artist but don't know where to start?
Everything you need to get started in ONE place
This course will teach you everything that is important to start your journey as 3D artist. All the crucial fundamental principles, tools, settings and workflows are explained and you will learn a full pipeline to create simple yet beautiful 3D animations, step by step and easy to understand. No need for gathering online videos from different sources to get started.
Suitable for absolute beginners
You don't know anything about 3D or Blender yet or you just started out? No problem. This course will take you by the hand right from the start and will guide you through the dense 3D jungle. If you have some experience already, this course will help you to fill in the missing gaps and smoothly enter the new and exciting land of Blender.
Thorough structured
A whooping amount of 22+ hrs of content awaits you. To make this easy to chew, we split the course into 20 chapters and 260+ short and fun videos, mostly between 2 and 10 minutes long.
Get help along the way
We give our best to make each lesson as clear and understandable as possible. If it still happens, that you got stuck at any point, you can ask for help or share your work in progress in the discussion section under each lecture. The CG Boost team and other students are there to help.
A community on your side
Additionally, you get access to an exclusive students-only community. There you can ask questions, share your renders and give or receive feedback from us or the other students.
Get started now
Your satisfaction is guaranteed with our 30-day 100% money-back guarantee.
Your Instructor
Zach Reinhardt is the founder of CG Boost and a passioned 3D artist and instructor, he will guide you through t


his course.
"Getting started into the world of Blender and 3D, can be really frustrating and overwhelming. I know exactly how that feels. When I started with Blender and 3D 16 years ago (in 2004), I had no one explaining to me how all of this works, I had no YouTube tutorials and basically no internet.
I had to figure out many things on my own which was sometimes really painful and took me a long time. But this doesn't stop me from pursuing my dreams and eventually becoming a freelance 3D artist and coach, making my living with Blender, 3D art and education.
Although it was worth all the trouble in the end, now looking back to my beginnings, I wished I had someone taking me by the hand and guiding me, to understand where to start, how to overcome certain pain points and how to create beautiful 3D art.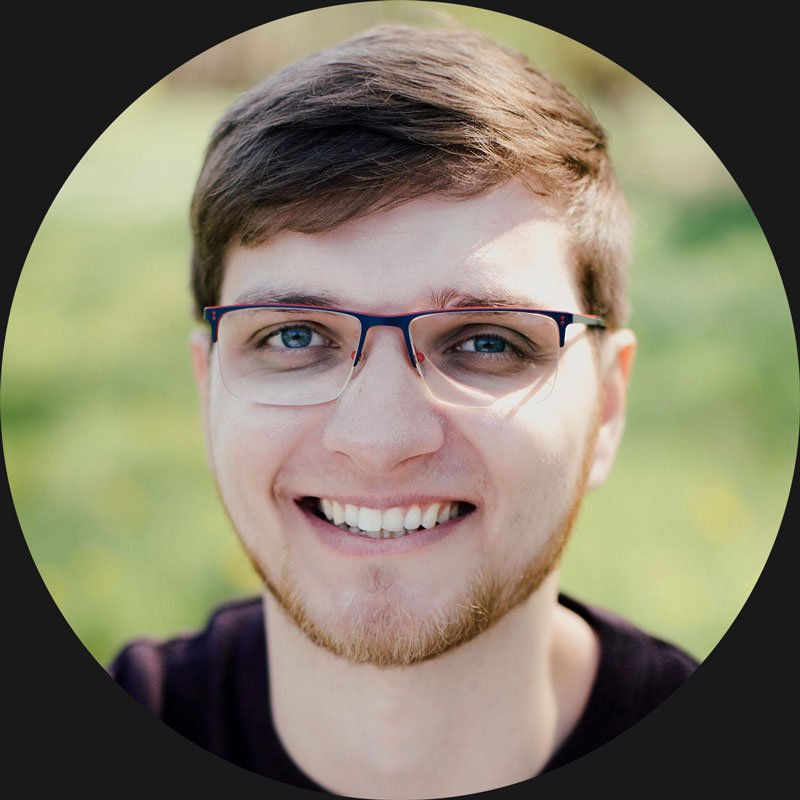 In my experience working on client projects as a freelance 3D artist and teaching Blender to companies, freelancers, and individuals for the past 7+ years, I've identified typical pain points, that can make your journey unnecessarily hard, when learning Blender.
That's why I carefully crafted the Blender Launch Pad course, so you don't have to go through the same troubles I had to go through, and make your start into the 3D world less painful and more fun."
Course Content
Below you can see what in each chapter is waiting for you to be explored
Chapter 1 - 3
User Interface, Navigation and more
49 tutorials | ~3:40 hrs running time
Get to know Blender. In the first 3 chapters you will learn how the user interface works, how to navigate, how to work with objects in 3D space and much more. These chapters are especially important to get the hang of Blender and make the following chapters more enjoyable.
To make this part not too boring, we are doing some small exercises in between, to consolidate what you have learned.
Chapter 4 & 5
Modeling Fundamentals and Exercise
64 tutorials | ~5:05 hrs running time
Hands-on guide to modeling. In the 4th chapter you will learn all the important modeling fundamentals, like workflows, tools and how to solve certain modeling problems.
In the 5th chapter we will practice modeling by creating a car and environment assets, step by step.
Chapter 6 & 7
Shading Fundamentals and Exercise
12 tutorials | ~1:20 hrs running time
The 3D world full of color. In the 6th chapter you will learn all the important fundamentals on how to work with materials in Blender (this task is called "Shading"). We also take a look into the new "Material Preview Mode", which allows us to quickly view the 3D scene in different lighting conditions and see all the changes on the materials in real time.
In the 7th chapter we will practice shading by colorizing all assets which were modeled in the previous chapters.
Chapter 8 & 9
Particle Simulation and World Creation
11 tutorials | ~1:10 hrs running time
3D world creation made easy. In the 8th chapter you will learn all important fundamentals on how to use the particle simulation, to create moving particles like rain or quickly grow a big forest.
In the 9th chapter we will use these techniques to assemble all previously created assets into a big desert scene.
Chapter 10 & 11
Lighting Fundamentals and Exercise
13 tutorials | ~1:05 hrs running time
Turn on the lights. In the 10th chapter you will learn all the important fundamentals on how to work with lights in Blender. We take a look at different light types, important settings, how to use the background to light up your scene and how to work with indirect and volumetric lighting.
In the 11th chapter we will practice lighting by adding light to the 3D scene created in the previous chapters and in this way generating a beautiful mood.
Chapter 12 & 13
Animation Fundamentals and Exercise
20 tutorials | ~1:50 hrs running time
Bring it to life. In the 12th chapter you will learn all important fundamentals on how to animate 3D objects, properties and shapes. We take a look at the different editors for animation, keyframe interpolations and animation modifiers.
In the 13th chapter we will bring the 3D scene to life which was created in the previous chapters. We will animate the flying car, different camera shots and crashing the car into a rock.
Chapter 14 & 15
Rendering Fundamentals and Exercise
16 tutorials | ~1:05 hrs running time
Put it out. In the 14th chapter you will learn all the fundamentals on how to render and output still images. We will learn more about the render and output settings, and we take a deep look into the new realtime render engine called EEVEE. Besides that, we will also have a quick look at the Cycles render engine for creating high quality renders and the Workbench render engine for creating technical images.
In the 15th chapter we will render out the final animation and convert it into a video which you can watch outside of Blender and share online with the world.
The animation you can see below is the final result of this course.
Chapter 16 (New)
UV Mapping Fundamentals and Exercise
11 tutorials | ~1:05 hrs running time | Added in September 2020
Unwrap it. In the newly added 16th chapter you will learn all important fundamentals on how UV mapping and UV unwrapping works. This is the foundation we need in order to get into texturing in the following chapters.
At the end of the chapter we will UV unwrap a 3D scene.
Chapter 17 & 18 (New)
Texturing & Texture Painting Fundamentals
39 tutorials | ~5:00 hrs running time | Added in October 2020
Adding color details. In the newly added 17th chapter you will learn all the important texturing fundamentals. We will have a look on how to use textures in the shader editor in Blender and how flexible you can adjust the textures. We will learn how to use masks, seamless textures, how to create semi-realistic materials on the fly, how to use PBR textures and much more. We will work with image textures and procedural textures. In the exercise at the end, you will fully texture a 3D scene.
In the newly added 18th chapter we will dive into texture painting. First we have a brief look on what we can do with the Vertex Paint mode, which has its limitations, and then we'll get into the more advanced Texture Paint mode. From learning all important settings and options over creating custom brushes to how to use Blenders Shader Editor to get some kind of painting layers and much more.
Chapter 19 & 20 (New)
Texturing Exercise and Baking Textures
12 tutorials | ~1:25 hrs running time | Added in November 2020
Advanced texturing in Blender. In the newly added 19th chapter we will practice everything we have learning in the new texturing chapters and texture and texture paint a CG Boost barrel.
To make this barrel usable in other 3D tools and Game Engines, we will bake down the material into practical PBR texture maps in the last new chapter.
Course Curriculum & Free Preview
Below you can see the full course curriculum. Lessons marked as "Preview" can be watch for free.
Get started now
Your satisfaction is guaranteed with our 30-day 100% money-back guarantee.
What our students say about this course...
Student Results
Below you can see some final course results of our students
Frequently Asked Questions
Can't find the answer for your question? Contact us here.
When does the course start and finish?
The course starts now and never ends! It is a completely self-paced online course - you decide when you start and when you finish.
How long do I have access to the course?
How does lifetime access sound? After enrolling, you have unlimited access to this course for as long as you like - across any and all devices you own.
What if I am unhappy with the course?
We would never want you to be unhappy! If you are unsatisfied with your purchase, contact us in the first 30 days, and we will give you a full refund.
I never used Blender before, am I able to follow this courses?
Yes! This course is especially designed to help you get started, even if you don't know anything about Blender or 3D in general.
Do I need a powerful system to run Blender?
In general, Blender should also run on older systems. But when it comes to rendering, Blender makes heavy use of your graphics card, especially when you're working with the EEVEE realtime renderer (what we will do a lot during this course). That's why we recommend to check if Blender runs on your computer.
Here you can check the system requirements.
We also recommend downloading the latest version of Blender and check if it runs on your machine.
Is this course suitable for advanced Blender users?
It depends. When you feel really comfortable with Blender already, this course is probably not for you. However, if you want to make the switch from Blender 2.7x to Blender 2.8+ this course can help you. Also, if you feel that after learning Blender for a while, you are still not able to bring the 3d projects to life which are in your head, this course can help you fill in the missing gaps.
Does this course work with Blender 2.9+?
Yes! The changes from Blender 2.8 to 2.9+ won't much affect the course content. The UI of both versions are nearly identical, so you can easily follow. We also give our best to update outdated lessons, so the course stays fresh.
Also, if you get stuck, we are there to help you, just ask your questions in the comment section below the lessons.
Can I get single chapters independently without buying the whole course?
Sorry, this is not possible.
Learning Blender and 3D art was one of the best things I've done in my life.
It is simply incredible how powerful this free and open source tool is. It allows me to bring my creative ideas to life, and even helps me to make a living.
Once I reached a certain point in the learning process, I was basically able to open up Blender and create what ever I had in my mind. This is like magic.
Since I can't really put it into words, I want you to experience the same. I'm here to guide you.
Let's get started on this exciting journey to become a 3D artist and learn to create 3D art you can be proud of.
Get started now
Your satisfaction is guaranteed with our 30-day 100% money-back guarantee.