Want to level up your texturing skills, but don't know how?
Everything you need to learn about PBR Texturing in one place.
This online course will teach you everything that is important to get started with PBR texturing in Substance Painter.
All the crucial fundamental principles, tools, settings and workflows are explained step by step and easy to understand, in concise lessons with practical exercises.
You will also learn a full Blender to Substance Painter pipeline to bring your 3d model textures to a whole new level.
No need for gathering online videos from different sources to get started.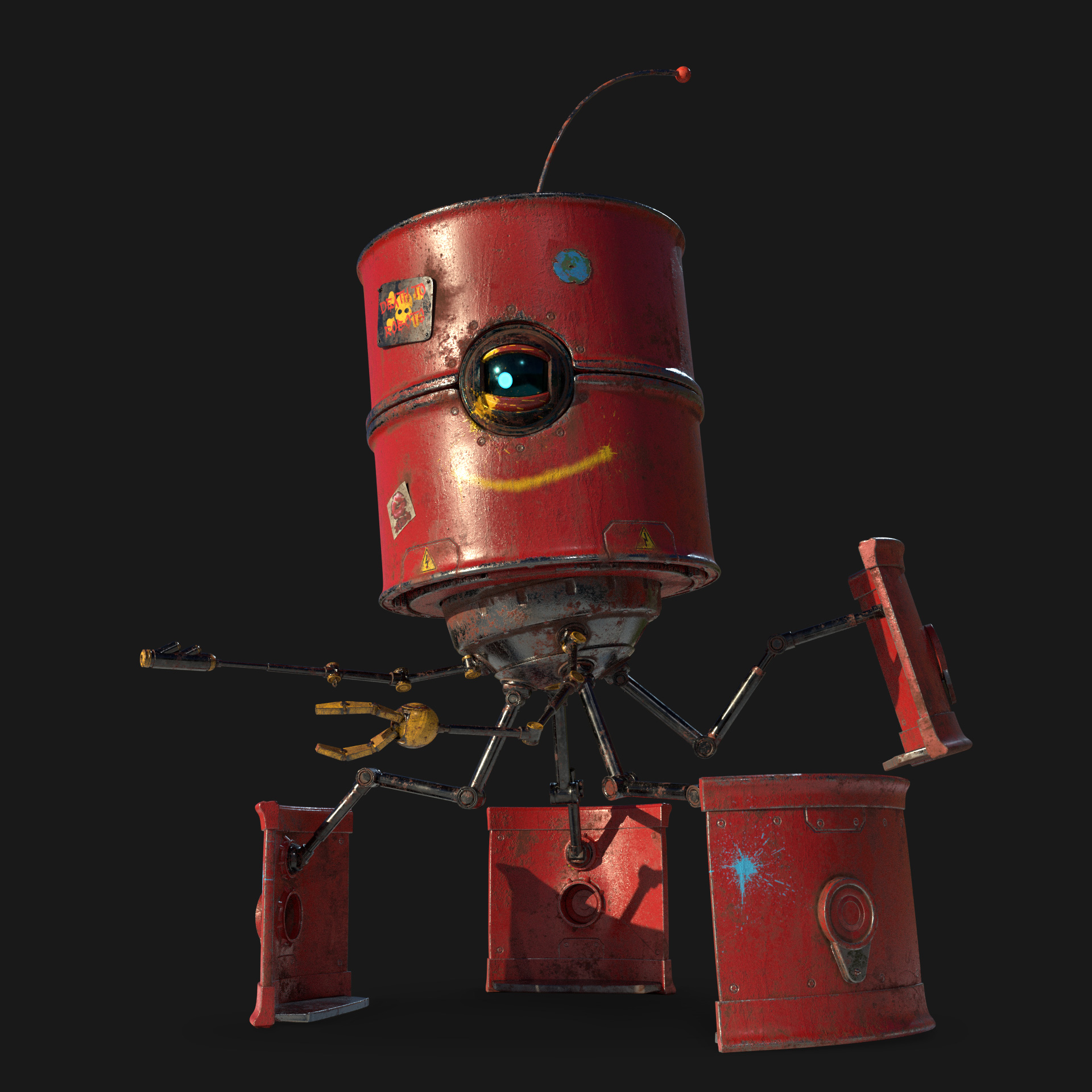 Suitable for absolute beginners
You don't know anything about Substance Painter or PBR texturing yet? No problem. This course will take you by the hand right from the start and will guide you through the exciting texturing tools of Substance Painter. If you have some experience already, this course will help you to fill in the missing gaps.
Thorough structured
Over 10 hrs of content awaits you. To make this easy to chew, we split the course into 11 chapters and 110+ short and fun videos, mostly between 2 and 10 minutes long.
Get help along the way
We give our best to make each lesson as clear and understandable as possible. If it still happens, that you got stuck at any point, you can ask for help or share your work in progress in the discussion section under each lecture. The CG Boost team and other students are there to help.
A community on your side
Additionally, you get access to an exclusive students-only community. There you can ask questions, share your renders and give or receive feedback from us or the other students.
Stream
Watch the course online

Download
Watch the course offline

Project Files
All important project files included

Support
Get help from the CG Boost team

Community
Join the student-only community

Certificate
Get a certificate on course completion

Accessibility
All videos have English captions
Free Updates
Get all future course updates for free

No Subscription
Pay once and get lifetime access
Get started now
Your satisfaction is guaranteed with our 30-day 100% money-back guarantee.
Your Instructor
Martin Klekner is a CG artist and instructor, he will guide you through this course.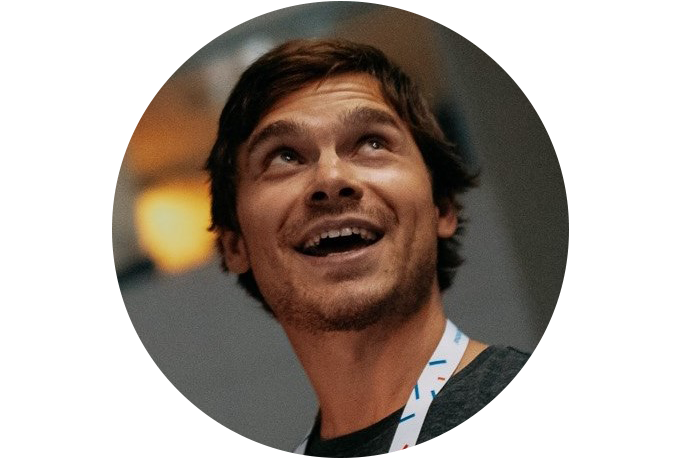 "Epic movies and CG game trailers. Two things that made me become a CG Artist.
Throughout my 10+ years journey, I've always loved to jump into huge personal projects, from Star Wars fan films to my current Heroes of Bronze CG short film project. Somehow along the way I've also had the opportunity to direct cut scenes for the 2017s acclaimed RPG Kingdom Come: Deliverance.
Sharing what I've learned was always my passion as well. Under the CG Boost flag, I want to push this skill to a whole new level..."
Course Content
Below you can see what in each chapter is waiting for you to be explored.
Chapter 1
Getting Started
8 tutorials | ~0:50 hrs running time
The 1st chapter will give you the overall theoretical knowledge about Substance and its PBR workflows.
It is mostly theoretical knowledge, but one that is definitely vital for your understanding of what's happening under the hood of the software while you're texturing.
In this chapter, you will also learn how you can get Substance Painter, what licensing and subscription options there are and some history behind the software.
Chapter 2
Preparing the 3D Model
6 tutorials | ~0:30 hrs running time
The 2nd chapter gives you a quick introduction into various ways you can approach preparing your 3d models in Blender for export to Substance.
You will learn how to approach building your models, their UVs and materials even before you step inside of Substance Painter. All the possible variants are included as .blend files.
Chapter 3 & 4
User Interface & Tools Overview
25 tutorials | ~2:00 hrs running time
In chapter 3 and 4, you will get all the basic knowledge of Substance Painter's user interface and tools.
You will go step by step through the software's various important areas and learn everything you need for the later workflow chapters. Throughout the chapters, you will be using the "Flybot" base model, allowing you to splash some paint on it!
Chapter 5
Basic PBR Texturing Workflow
26 tutorials | ~2:00 hrs running time
The first hands-on texturing workflows start in Chapter 5, while we'll be working on our little "Flybot" model.
You will get to know your first materials, masks, particle brushes, alphas, normals and much more. From baking process, to color variation and adding dirt, to the final touches, you will have a first taste of how fun and fast working in Substance Painter actually is.
Chapter 6
Rendering Overview
4 tutorials | ~0:15 hrs running time
In chapter 6 you will learn about presenting your creation in the best possible light.
In other words, you will get to know the rendering capabilities of Painter, including the great "IRay" interface. You will learn about powerful filters, lighting adjustments, as well as controlling the environment around your model for the best possible rendering results directly inside of Painter.
Chapter 7 & 8
Preparing & Texturing the Robot (Barrelbot)
~30 tutorials | ~2:30 hrs running time
In Chapters 7 and 8 we will finally jump onto the mascot of the whole course, the F37 Barrelbot, our nuclear waste-cleaning robot called "Barry".
First, we will UV unwrap it in Blender and prepare it for export. After that, in Painter, you will learn about advanced workflows and tricks, painting normal and height maps, playing around with complex masks, adding decals and deepening the backstory of this robot with adding texture details.
Chapter 9
Use the 3D Model in Blender
2 tutorials | ~0:15 hrs running time
In chapter 9 you will learn how to bring back your creation from Substance Painter to Blender.
Exporting various texture maps, plugging them into the PBR shaders, quickly lighting and rendering the robot in your favorite 3D software (which is Blender, of course).
Chapter 10
Texturing more Scene Assets
5 tutorials | ~0:45 hrs running time
Chapter 10 will give you some more, shorter yet more specific workflow examples, like texturing cloth or sculpting in Substance Painter.
Chapter 11
Advanced Bonus Lessons
9 tutorials | ~1:00 hr running time
The final chapter 11 is for all of you who mastered the previous sections, since we will focus on more advanced parts of Painter.
This including all the seldom used, yet useful tools it provides, like working with MicroDetails, advanced Baking, Dynamic Strokes, using Anchor Points, LUTs and more.
Course Curriculum & Free Preview
Below you can see the full course curriculum. Lessons marked as "Preview" can be watch for free.
Get started now
Your satisfaction is guaranteed with our 30-day 100% money-back guarantee.
What our students say about this course...
Frequently Asked Questions
Can't find the answer for your question? Contact us here.
When does the course start and finish?
The course starts now and never ends! It is a completely self-paced online course - you decide when you start and when you finish.
How long do I have access to the course?
How does lifetime access sound? After enrolling, you have unlimited access to this course for as long as you like - across any and all devices you own.
What if I am unhappy with the course?
We would never want you to be unhappy! If you are unsatisfied with your purchase, contact us in the first 30 days, and we will give you a full refund. No questions asked.
Do I need to buy Substance Painter to follow the course?
Yes. If you don't have a Substance subscription yet, you can try it for 30 days free of charge, here.
What type of license should I get - the Steam license or Subscription?
If you want to own Substance Painter and do not need other applications like Designer and Alchemist, you can go with the perpetual Steam version. That version, however, will only provide updates for one year and will not give you full access to Substance Source library. In the course we won't fully rely on Substance Source, but it will be used every now and then to spice things up.
The subscription is quite affordable and gives you all the Substance applications with support and the Source library. Besides, you can cancel the subscription at anytime.
Also, you can always try the 30-day trial to help you decide.
More information in the free lesson 8 from chapter 1.
Will the course cover modeling and animation?
No, this course focuses on PBR texturing in Substance Painter and the Blender to Substance Painter pipeline (export/import) only. Modeling, animation etc. is not included.
Can I get single chapters independently without buying the whole course?
Sorry, this is not possible.
Learning Substance Painter was one of the best things I could've done...
I started using Substance Painter in 2016 and it completely changed the way I create textures.
Everything has become much faster, much better looking and reliable ever since - which in turn, immensely helped me in both my personal and commercial projects.
For me personally, learning how to use it was one of the best decisions I could have made. In this course, I want to share my knowledge with you.
Let's get started on this exciting journey to level up your PBR texturing skills and to create 3D art you can be proud of.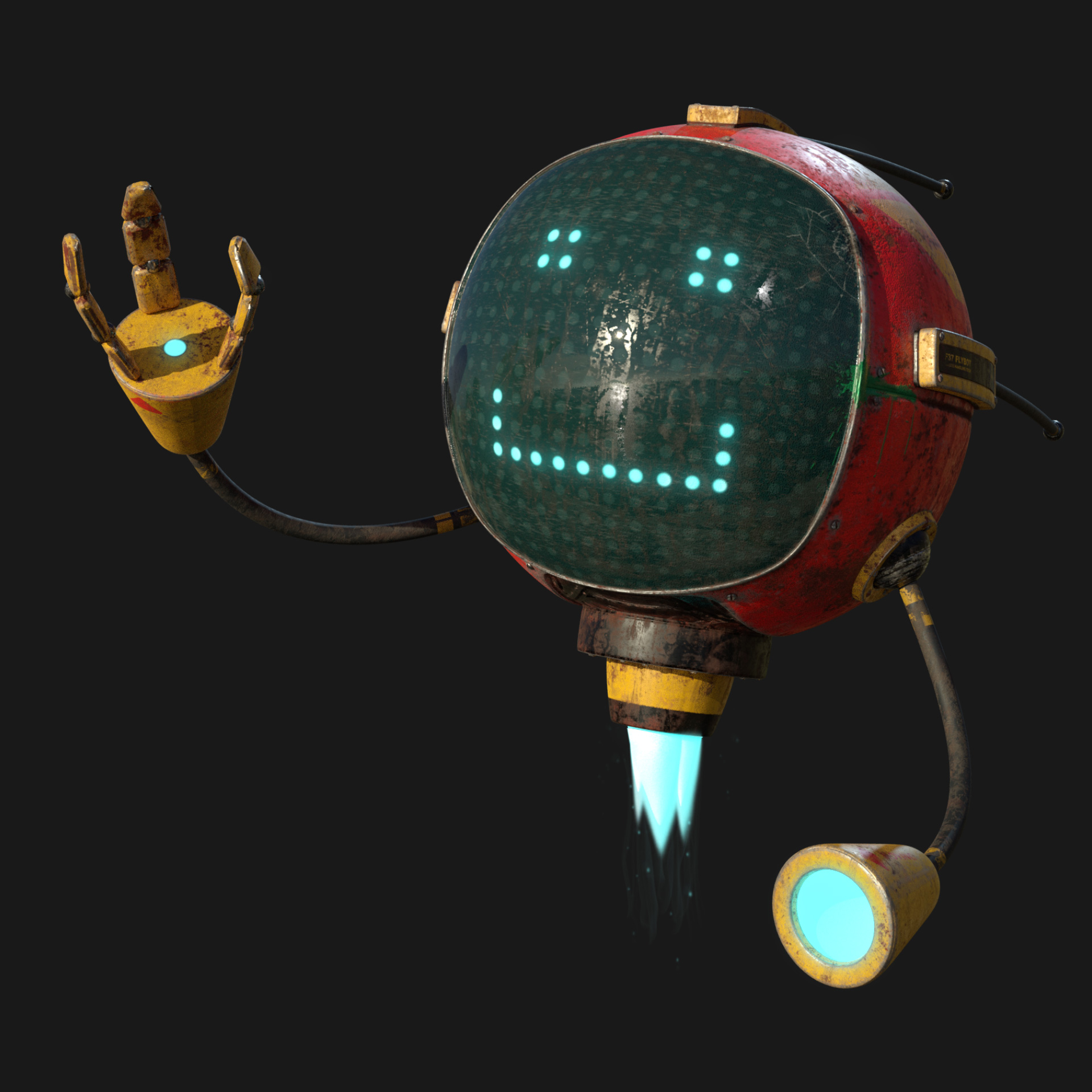 Get started now
Your satisfaction is guaranteed with our 30-day 100% money-back guarantee.